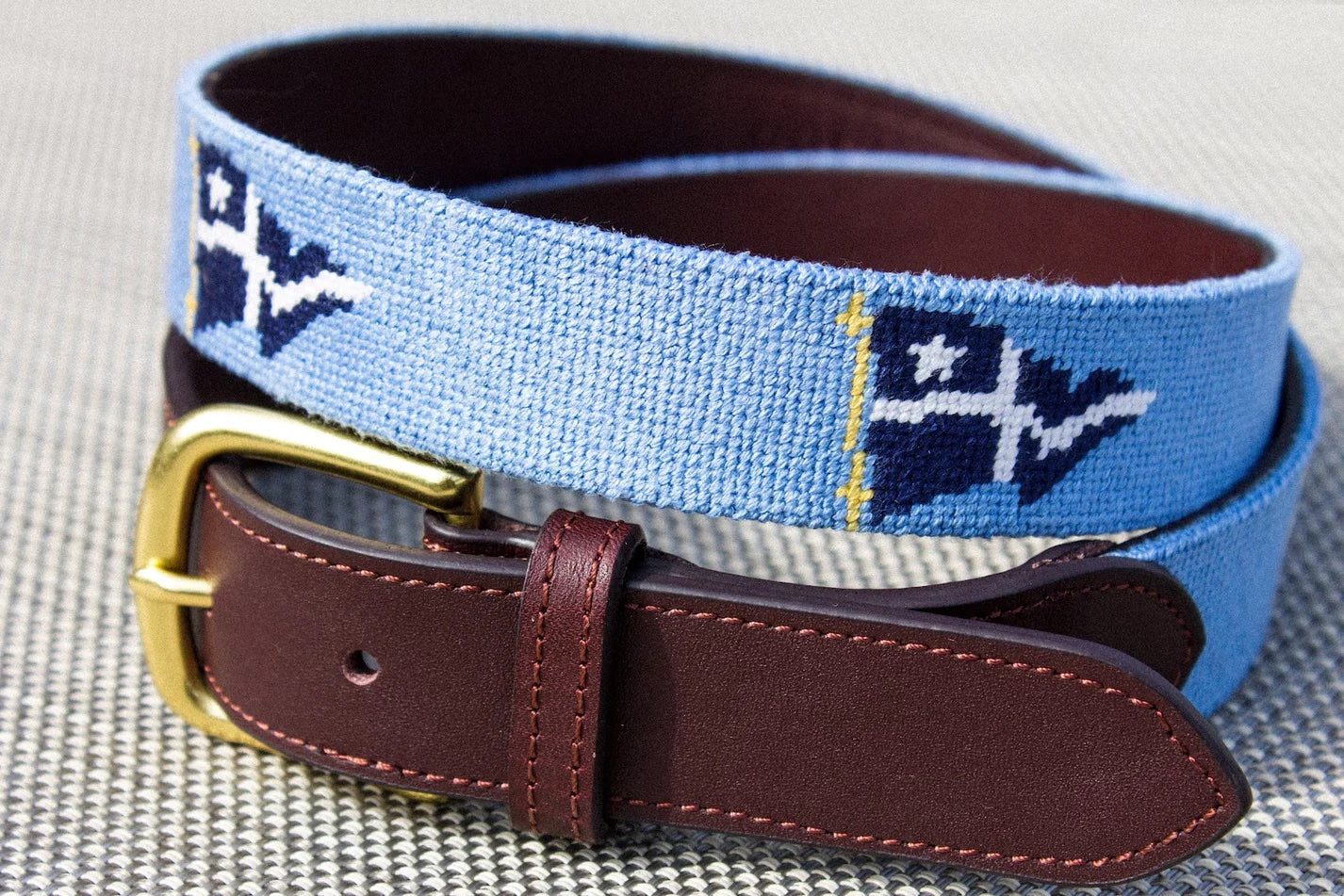 Needlepoint Belts
Our fully customizable needlepoint belts are 100% hand-stitched needlepoint with a cowhide leather backing and a solid brass buckle.
Shop now
Customers love us on Etsy! ★★★★★
"I can't begin to tell you how thrilled I was when i saw the belt I had custom made for our son's graduation gift! The quality of these belts is top notch! George was so easy to work with and helpful with proofs as I was trying to choose the right colors for my son's college. They take a couple of months but well worth the wait!"

- Elizabeth, Verified Etsy Buyer

See Review

"George and the team were extremely responsive and worked with me to create 14 incredible belts for an annual golf trip. Timeliness of hand stitching 14 different unique custom belts was better than you're getting anywhere else for the same or better quality. 5 stars. Highly recommend."

- David, Verified Etsy Buyer

See Review

"Could not have had a better experience with my order from Fish Creek Brands. George always responded promptly and was very accommodating while helping me figure out the design I wanted. The quality of the leather and needlepoint is top notch. Five star service from start to finish."

- Sam, Verified Etsy Buyer

See Review
FAQs
Can I customize and personalized my product?

We'd love to work with you on customizing any of our needlepoint products! For example, we can add designs associated with you or your loved one's life to our custom needlepoint belts.
What size needlepoint belt do I order?

For our custom needlepoint belts, please order 2 inches larger than the individual's pant size! For example, an individual who wears a 34 pant should order a 36 sized belt. Learn more by reading our Belt Sizing Guide
How do your belts compare to Smathers and Branson?

Our belts are different and unique relative to Smathers and Branson needlepoint belts. You may notice our leather is a bit wider and our buckles are a bit larger.

However, we offer similar custom needlepoint belt designs that serve as first class mementos to one's life.

Plus, our belts are priced differently!
What is your lead time on custom orders?

Our lead time is 10 to 12 weeks due to the handmade nature of needlepoint. Each of our needlepoint belts has an average of 10,000 stitches, which are all stitched by hand. Additionally, our other needlepoint products take 10 to 12 weeks.
Do you offer wholesale needlepoint belts?
What is your Made-to-Order Program?

Partnership: We partner with you directly to design & sell needlepoint belts to members of your private organization.

Made-to-Order: All products are made-to-order, meaning there is no inventory investment on your end.

Personalized: Members of your organization can customize their belts with initials, signal flags, yacht names, team names and more.

First Class Service: After collaborating on branding and products, Fish Creek Brands hosts products on a password gated section of our website, handles customer service, and processes shipments to each of your members directly.

Learn more: Our Made-to-Order Program